acer-laptop-charger-19v-4-74a-5-5mm1-7mm
Looking for an Acer Laptop Power Adapter Charger featuring a 19v, current  is 4.74A and a pin size of (5.5mm*1.7mm)? Look no further we have it here at laptop parts your most reliable and reliable online shop for all your laptop needs. Feel free to call use at 0720603094.
Specifications for the Acer Laptop Power Adapter Charger
Product Color: Black
Input Voltage: 100 – 240VAC, 50/60Hz
Output Voltage: 19V
Output Current: 4.74A
Output Power: 90W
Output Connector Size: 5.5*1.7 mm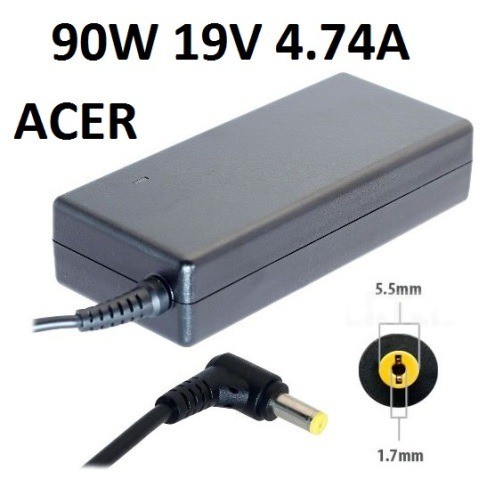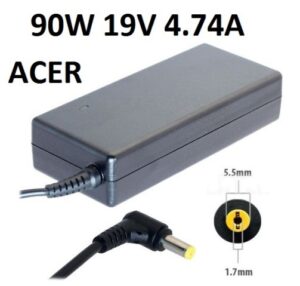 Acer Laptop Adaptor Charger 19V 4.74A 5.5mm*1.7mm replace part numbers:
Acer: ADT01.008, AP.09006.004, AP.09003.009, AP.09001.005, AP.09001.003, AP.09000.001
Delta: ADP-90SB BB
Liteon: PA-1900-04, PA-1900-04AC, PA-1900-04QB
Li Shin: LSE0202C1990
This item will support the Part # PA-1900-24, but for ACER models only.
Acer Laptop Adaptor Charger 19V 4.74A 5.5mm*1.7mm fit models:
| | | |
| --- | --- | --- |
| Acer TravelMate 2420, 2480, 2490 | Acer TravelMate 2420, 2480, 2490 | Acer TravelMate 2420, 2480, 2490 |
| Acer TravelMate 3250, 3252 | Acer TravelMate 3250, 3252 | Acer TravelMate 3250, 3252 |
| Acer TravelMate 4200, 4200 II, 4202, 4202LMI, 4202WLMI | Acer TravelMate 4200, 4200 II, 4202, 4202LMI, 4202WLMI | Acer TravelMate 4200, 4200 II, 4202, 4202LMI, 4202WLMI |
| Acer TravelMate 4210, 4220, 4222, 4230, 4233, 4270 | Acer TravelMate 4210, 4220, 4222, 4230, 4233, 4270 | Acer TravelMate 4210, 4220, 4222, 4230, 4233, 4270 |
| Acer TravelMate 4400, 4402, 4404 | Acer TravelMate 4400, 4402, 4404 | Acer TravelMate 4400, 4402, 4404 |
| Acer TravelMate 4670, 4672, 4674 | Acer TravelMate 4670, 4672, 4674 | Acer TravelMate 4670, 4672, 4674 |
| Acer TravelMate 5610, 5612, 5620 | Acer TravelMate 5610, 5612, 5620 | Acer TravelMate 5610, 5612, 5620 |
| Acer TravelMate 5720 | Acer TravelMate 5720 | Acer TravelMate 5720 |