Unleash Power and Performance with the 512GB SSD Kingspec SATA – Elevate Your Laptop Experience.
Upgrade your laptop's performance to new heights with the 512GB SSD Kingspec SATA – the powerhouse storage solution that combines speed, reliability, and affordability. Dive into a world of seamless multitasking and lightning-fast data access, making every computing experience a breeze.
512GB SSD Kingspec SATA boasts incredibly fast transfer speeds, large capacities of up to 1TB, a compact and lightweight design, shock and vibration resistance, and supports Dev Sleep mode.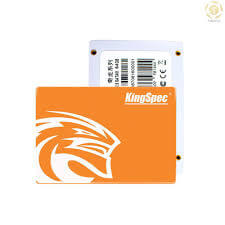 DESCRIPTION:
Fast Response Whilst Saving Power.
The 512GB SSD Kingspec SATA maximizes notebook battery life when not in use thanks to the full support of SATA Device Sleep Mode (DevSleep). DevSleep ultra low power state conserves more battery power than current power saving features such as standby mode by shutting down the SATA interface completely.
Take control with SSD Scope.
To keep your 512GB SSD Kingspec SATA running fast, clean, and error-free, the advanced SSD Scope software application is available to download and work with the SSD. SSD Scope allows you to monitor SSD health status with S.M.A.R.T. technology, enable the TRIM command in the operating system to help maintain optimum write speeds, and conveniently update SSD firmware, all from a single user-friendly tool.
Mounting Kit Included for Desktop PCs.
The 512GB SSD Kingspec SATA includes a 3.5-inch mounting kid, consisting of a bay adapter and 8 mounting screws. Once attached to the chassis, you can use the 2.5-inch SSD in the standard 3.5-inch space.
Unrivaled Speed and Efficiency. Experience blazing-fast read and write speeds with the 512GB SSD Kingspec SATA. Boost your laptop's performance, reduce load times, and enjoy smooth operation for your everyday tasks, from booting up in seconds to handling resource-intensive applications with ease.
Affordability Meets Excellence. Unlock high-end storage without breaking the bank. Our 512GB SSD Kingspec SATA provides exceptional value, delivering top-notch performance at an affordable price point. Upgrade your laptop without compromising your budget. 512GB SSD price in KENYA is KSH 4,500
Wide Range of Selection. Discover the perfect fit for your laptop with our extensive selection of Kingspec SSDs. Whether you're a casual user, a content creator, or a gaming enthusiast, find the ideal storage capacity to suit your needs. Elevate your laptop's capabilities with the perfect blend of storage space and speed.
Reliable and Durable. Trust in the durability of Kingspec SSDs. Built to withstand the rigors of daily use, our 512GB SSD ensures your data is secure and accessible whenever you need it. Say goodbye to traditional hard drives and embrace the reliability of solid-state storage.
Specifications:
| Feature | Description |
| --- | --- |
| Capacity | 512GB |
| Form Factor | 2.5 Inch SATA |
| Read Speed | Blazing-fast read speeds for quick data access |
| Write Speed | Efficient write speeds for seamless performance |
| Affordability | High-performance storage at an affordable price |
| Wide Selection | Choose the perfect capacity for your specific needs |
| Reliability | Durable and reliable, ensuring data security |
| Compatibility | Compatible with a wide range of laptops |
Upgrade your laptop's storage to the 512GB SSD Kingspec SATA and enjoy a transformative computing experience. Unleash the power of SSD technology at an unbeatable price. Elevate your laptop, enhance your productivity, and embrace the future of storage with Kingspec.
Key Features:
Boost your computer's speed and capacity with a Transcend SSD.
Max. Read 570MB/s, Max. Write 470MB/s.
DDR3 DRAM cache.
TRIM Command support.
Power Shield to prevent data loss when sudden power off.
Supports S.M.A.R.T. function.
Built-in ECC protection for long data retention.
Intelligent Block Management and Wear Leveling.