Looking for a HP Pavilion 11 X360 Laptop Battery-PL02XL? Get it at Laptop Parts, the leading retail shop for all your laptop parts in Nairobi, Kenya.
Unlock the true potential of your HP ProBook 11 G1 with our high-performance and affordable HP Pavilion 11 X360 Laptop Battery-PL02XL available at LaptopParts. Our range of laptop batteries is designed to provide you with unmatched power, ensuring your laptop stays charged and ready for all your tasks. With a wide selection of top-quality batteries, we guarantee reliability, affordability, and performance that exceeds expectations.
At LaptopParts, we pride ourselves on offering the best selection of laptop batteries, including the HP Pavilion 11 X360 Laptop Battery-PL02XL, at unbeatable prices. We understand the importance of a reliable power source for your laptop, and our products are tailored to meet your needs without breaking the bank.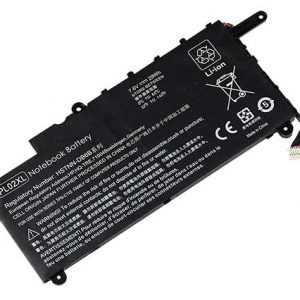 SPECIFICATIONS:
Affordability at Its Best: Our HP Pavilion 11 X360 Laptop Battery-PL02XL is not only high in quality but also light on your pocket. We believe that every laptop user deserves a dependable battery without compromising their budget. With our affordable prices, you can enjoy seamless computing without worrying about unexpected power drainage.
Wide Range of Selection: Looking for the perfect battery for your HP ProBook 11 G1? Look no further! LaptopParts offers a wide range of selections, ensuring that you find the ideal battery that suits your laptop model. Our collection caters to various laptop brands and models, providing you with options that fit your specific requirements.
Unmatched Performance: When it comes to performance, our HP Pavilion 11 X360 Laptop Battery-PL02XL stands out from the rest. Engineered with advanced technology, this battery offers a longer lifespan, quick charging, and reliable power supply. Say goodbye to frequent charging interruptions and hello to uninterrupted productivity.
Specifications:
| Battery Type | Capacity | Voltage | Compatibility |
| --- | --- | --- | --- |
| Li-ion | 29Wh | 7.6V | HP ProBook 11 G1 |
With our HP Pavilion 11 X360 Laptop Battery-PL02XL, you can enjoy the freedom of working, gaming, or streaming without the constant worry of running out of power. It's time to enhance your laptop experience with our reliable and budget-friendly battery solutions.
Why Choose LaptopParts?
Quality Assurance: Our batteries undergo rigorous testing to ensure optimal performance and safety. You can trust the quality of our products.
Affordability: We believe in providing high-quality batteries at prices that won't break the bank. Enjoy top-notch performance without the hefty price tag.
Wide Selection: Find the perfect battery for your laptop from our extensive range of options. We cater to various laptop brands and models, ensuring compatibility for all users.
Exceptional Customer Service: Our dedicated customer support team is always ready to assist you. Have questions or concerns? We're here to help.
Upgrade your laptop's performance with the HP Pavilion 11 X360 Laptop Battery-PL02XL from LaptopParts. Experience affordability, reliability, and unmatched quality, all in one package. Don't let power limitations hold you back—power up your laptop and take on the world with confidence
HP Pavilion 11 X360 Laptop Battery-PL02XL Replace The Following Part Number:
7177376-001
751681-231
751681-421
751875-001

HSTNN-DB6B
HSTNN-LB6B
PL02029XL
TPN-C115
HP Pavilion 11 X360 Laptop Battery-PL02XL Fit With Following Models:
Pavilion 11-N000SNX
Pavilion 11 X360 Series
Pavilion X360 11-N010EA
Pavilion X360 11-N010LA
Pavilion X360 11-N014TU
Pavilion X360 11-N020NA
Pavilion X360 11-N020NX
Pavilion X360 11-N026BR

Pavilion X360 11-N028TU
Pavilion X360 11-N030TU
Pavilion X360 11-N038CA
Pavilion X360 11-N040CA
Pavilion X360 11-N041CA
Pavilion X360 11-N050ND
Pavilion X360 11-N051SR
Pavilion X360 11-N055ND

Pavilion X360 11-N060UR
Pavilion X360 11-N061UR
Pavilion X360 11-N070EG
Pavilion X360 11-N071EG
Pavilion X360 11-N077NG
Pavilion X360 11-N078NG
Pavilion X360 11-N080NA
Pavilion X360 11-N083SA
Pavilion X360 11-N099NF
Get your HP PL02XL Laptop Battery Kenya and have it delivered to your doorstep in less than 3 hours if you are in Nairobi and within 24hrs for those outside Nairobi. Laptop parts are your trusted and reliable online shop for all laptop parts for all your favorite brands. We have the best replacement HP Pavilion 11 X360 Laptop Battery-PL02XL price in Kenya is 3,999.