Empower Your MacBook Air 13 Inch with Our Premium MacBook Air 13 Inch Generic Battery A1405  – Unbeatable Performance and Unparalleled Value.
In the world of laptop accessories, finding the perfect balance between performance, affordability, and selection can be a daunting task. At LaptopParts, we redefine your MacBook Air 13 Inch experience with our top-of-the-line Generic Battery A1405. Dive into ultimate productivity without breaking the bank, thanks to our unbeatable prices and an extensive selection tailored to meet your diverse needs.
When it comes to enhancing your MacBook Air's performance, quality should never be compromised. Our MacBook Air 13 Inch Generic Battery A1405 is crafted with precision and attention to detail, ensuring exceptional quality and reliability. Engineered to meet the highest industry standards, our battery offers consistent and reliable power, allowing you to focus on what matters most without worrying about unexpected shutdowns. Invest in the best for your MacBook Air – choose LaptopParts.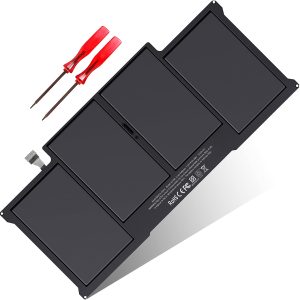 DESCRIPTION:
Unmatched Performance:
Our MacBook Air 13 Inch Generic Battery A1405 boasts cutting-edge technology that ensures prolonged battery life and uninterrupted usage. With a high-capacity design and superior energy efficiency, you can bid farewell to frequent charging interruptions and enjoy seamless, extended usage on your MacBook Air. Whether you're a student, a professional, or a creative enthusiast, our battery guarantees optimal performance, empowering you to tackle tasks with confidence.
Affordability Redefined:
We understand the importance of affordability in today's fast-paced world. That's why we offer our MacBook Air 13 Inch Generic Battery A1405 at an unbeatable price, allowing you to enhance your MacBook Air's performance without burning a hole in your pocket. Quality and affordability go hand in hand at LaptopParts, ensuring you get the best value for your money. Say goodbye to overpriced alternatives and embrace a budget-friendly solution that doesn't compromise on quality.
–We believe that quality shouldn't come at a hefty price. Our replacement parts are competitively priced, making them accessible to budget-conscious customers without compromising on performance or reliability. Our MacBook Air 13 Inch Generic Battery A1405 price in Nairobi Kenya is KSH 6,499.
Wide Range of Selection:
At LaptopParts, we take pride in our extensive selection of MacBook Air accessories, catering to a diverse audience with varying needs. Our wide range of MacBook Air 13 Inch Generic Battery A1405 options ensures compatibility with different MacBook Air models, giving you the freedom to choose the perfect fit for your device. No matter which MacBook Air 13 Inch you own, you can count on us to provide the ideal battery replacement that aligns seamlessly with your specifications.
Environmentally Conscious Choice: RoHS Compliant and Eco-Friendly
At LaptopParts, we care about the environment as much as you do. Our MacBook Air 13 Inch Generic Battery A1405 is RoHS compliant, ensuring it meets strict environmental standards. By choosing our eco-friendly battery, you're making a responsible choice that contributes to a sustainable future. Reduce your carbon footprint without compromising on performance – it's a win-win situation.
Customer-Centric Support: Your Satisfaction, Our Priority
Your satisfaction is at the heart of what we do. At LaptopParts, we pride ourselves on providing exceptional customer support. Have a question? Need assistance with choosing the right battery? Our dedicated support team is here to help. With prompt responses and expert guidance, we ensure your shopping experience is smooth and stress-free. Your MacBook Air deserves the best, and we're here to deliver it.
Table of Specifications:
| Specification | Details |
| --- | --- |
| Model | MacBook Air 13 Inch Generic Battery A1405 |
| Capacity | High-capacity design for prolonged use |
| Compatibility | Compatible with various MacBook Air 13 Inch models |
| Voltage | Optimal voltage for efficient performance |
| Energy Efficiency | Superior energy-saving technology |
| Longevity | Extended lifespan for prolonged usage |
| Safety Features | Built-in safety mechanisms for secure operation |
| Installation | Easy to install; no technical expertise required |
| Certifications | RoHS compliant; meets industry standards |
Why Choose LaptopParts?
At LaptopParts, customer satisfaction is our priority. We combine quality, affordability, and a wide selection to deliver an unparalleled shopping experience. Our dedicated team of experts is always ready to assist you, ensuring you find the perfect MacBook Air 13 Inch Generic Battery A1405 for your needs.
Don't compromise on your MacBook Air's performance. Upgrade to our Generic Battery A1405 and enjoy uninterrupted productivity, seamless multitasking, and extended usage on a single charge. Experience the LaptopParts difference today and empower your MacBook Air like never before. Browse our selection now and take the first step towards a more efficient and reliable laptop experience.