Unlock Power and Efficiency: Your Ultimate Solution for MacBook Pro 13-inch Generic Battery A1989.
Welcome to LaptopParts, your ultimate destination for superior quality MacBook Pro 13-inch Generic Battery A1989 replacements. Experience unparalleled performance with our top-notch batteries that combine power, longevity, and affordability. Our wide range of selection ensures you find the perfect match for your MacBook, enhancing its lifespan and keeping you productive on the go.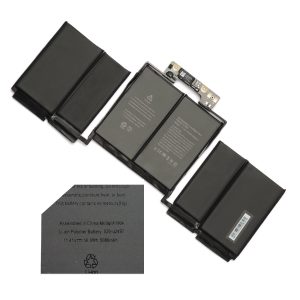 DESCRIPTION:
Affordability Redefined: Our MacBook Pro 13-inch Generic Battery A1989 offers exceptional quality at an unbeatable price. We understand the value of your hard-earned money, and that's why we provide budget-friendly solutions without compromising on performance or durability.
Wide Range of Selection: At LaptopParts, we take pride in our extensive selection of MacBook batteries. Whether you need a replacement for an older MacBook or the latest model, our inventory ensures you'll find the perfect battery that seamlessly integrates with your device.
Unmatched Performance: Our batteries are engineered to deliver consistent, reliable performance, ensuring your MacBook Pro stays powered up for longer durations. Say goodbye to constant charging hassles and hello to uninterrupted productivity.
Easy Installation: Designed with user convenience in mind, our MacBook Pro 13-inch Generic Battery A1989 is easy to install. No technical expertise is required; simply replace your old battery with our new one, and you're ready to go.
Certified Quality: Rest easy knowing our batteries meet rigorous quality standards and certifications. Your safety is our priority, and our batteries are tested for efficiency, stability, and longevity, guaranteeing a seamless user experience.
Customer Satisfaction Guarantee: We are committed to providing exceptional customer service. If you encounter any issues or have questions about our products, our dedicated support team is here to assist you. Your satisfaction is our success.
Environmentally Friendly: Our MacBook Pro 13-inch Generic Battery A1989 is eco-friendly, featuring advanced technology that minimizes environmental impact. Make a responsible choice by choosing our energy-efficient batteries.
Dedicated Support: Your satisfaction is our priority. Our dedicated support team is available to assist you with any queries or concerns. Experience personalized customer service that goes the extra mile to enhance your MacBook experience.
Environmentally Conscious: Contribute to a greener planet with our eco-friendly MacBook Pro 13-inch Generic Battery A1989. Crafted with environmentally conscious materials and energy-efficient technology, our batteries minimize environmental impact, making them a responsible choice for the eco-conscious consumer.
Innovative Power Solutions: Immerse yourself in seamless productivity with our MacBook Pro 13-inch Generic Battery A1989. Experience innovative power solutions that redefine longevity, ensuring your MacBook remains charged throughout your busy day. Stay focused on what matters – let us handle the power.
Tailored Selection: Find your perfect match from our extensive range of MacBook batteries. Tailored to fit MacBook Pro A1989 models, our batteries guarantee compatibility, ensuring a hassle-free replacement experience. Choose with confidence; power up your MacBook with us.
Specifications:
Model: MacBook Pro 13-inch Generic Battery A1989
Capacity: High-performance, long-lasting power (5186mAh)
Compatibility: Tailored for MacBook Pro A1989 models
Certifications: Ensured safety and reliability
Voltage: Optimized for efficient energy consumption
Warranty: Your satisfaction, our guarantee (3 months )
Battery Part Number: A1964 | A1989
Choose LaptopParts for your MacBook Pro 13-inch Generic Battery A1989 needs and unlock the true potential of your device. Enjoy unmatched performance, affordability, and a wide range of selection, all backed by our commitment to quality and customer satisfaction. Upgrade your MacBook's battery today and experience the power of seamless productivity.