Power Up Your MacBook Pro with Affordable and Reliable MacBook Pro 15 Inch Generic Battery A1281 Replacements.
When it comes to powering up your MacBook Pro 15 Inch, nothing beats the performance and affordability of the MacBook Pro 15 Inch Generic Battery A1281, available at LaptopParts. Our high-quality replacement batteries are designed to breathe new life into your MacBook, ensuring you can work, create, and connect without interruptions. With a wide selection of reliable batteries at your fingertips, finding the perfect match for your MacBook Pro has never been easier.
Our MacBook Pro 15 Inch Generic Battery A1281 stands out as a testament to quality, affordability, and durability. Engineered to meet and exceed industry standards, this battery offers a seamless fit for your device, ensuring optimal performance with every use. Why settle for less when you can have a superior battery that delivers outstanding results without compromising your budget?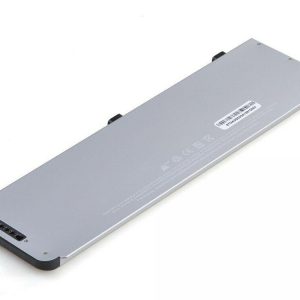 DESCRIPTION:
Affordability Redefined: We understand the importance of cost-effective solutions without compromising on quality. Our MacBook Pro 15 Inch Generic Battery A1281 combines affordability with high-performance, providing you with exceptional value for your money. Say goodbye to overpriced alternatives and embrace a budget-friendly battery solution that doesn't compromise on reliability.
-We believe that quality shouldn't come at a hefty price. Our replacement parts are competitively priced, making them accessible to budget-conscious customers without compromising on performance or reliability. Our MacBook Pro 15 Inch Generic Battery A1281 price in Nairobi Kenya is KSH 5,499.
Wide Range of Selection: At LaptopParts, we take pride in offering a diverse range of laptop batteries tailored to meet various needs and preferences. Our wide selection ensures that you find the perfect match for your MacBook Pro 15 Inch Generic Battery A1281, regardless of the specific model. Explore our extensive inventory to discover batteries designed for different MacBook Pro configurations, enabling you to choose the ideal option that suits your requirements.
Enhanced Performance, Every Time: Invest in your laptop's longevity and performance by choosing our MacBook Pro 15 Inch Generic Battery A1281. Experience uninterrupted usage and enhanced productivity, whether you're working on important projects, streaming your favorite content, or tackling creative tasks. With our battery, you can rely on consistent power supply, allowing you to focus on what matters most.
Exceptional Quality, Guaranteed: We prioritize quality and customer satisfaction above all else. Our MacBook Pro 15 Inch Generic Battery A1281 undergoes rigorous testing to ensure its reliability, longevity, and safety. Rest assured, you are investing in a product that not only meets but exceeds industry standards. Say goodbye to unexpected power failures and welcome a battery that you can depend on, day in and day out.
Why Choose Our MacBook Pro 15 Inch Generic Battery A1281?
Affordability: Enjoy top-notch performance without breaking the bank.
Wide Selection: Find the perfect match for your MacBook Pro with our diverse range of batteries.
Reliability: Trust in a high-quality battery designed for seamless compatibility and lasting performance.
Longevity: Experience extended usage hours and enhanced productivity with a dependable power source.
Customer Satisfaction: Join countless satisfied customers who have transformed their laptop experience with our reliable batteries.
Easy Installation: Say goodbye to complicated installations. Our A1281 battery is designed for hassle-free replacement, allowing you to revive your MacBook Pro quickly. Experience the convenience of a seamless installation process with our user-friendly design.
Environmentally Friendly: We are committed to sustainability. Our batteries are eco-friendly and comply with environmental regulations, ensuring responsible disposal practices. Make a conscious choice for your MacBook and the planet with our green and energy-efficient A1281 battery.
24/7 Customer Support: Have questions or need assistance? Our dedicated customer support team is available 24/7 to address your inquiries and provide expert guidance. We prioritize customer satisfaction, ensuring you have a seamless shopping experience.
KEY FEATURES:
Battery Specifications:
Voltage: 10.8V
Capacity: 5800mAh
Cell Type: Lithium-Polymer
Compatibility: MacBook Pro 15 Inch (2008 Version)
Certifications: CE, RoHS, FCC
Upgrade your MacBook Pro 15 Inch with our affordable and high-quality Generic Battery A1281. Explore our selection today and discover the power of seamless performance at a price that won't hurt your wallet. Embrace the future of computing with LaptopParts – where affordability meets excellence.
Compatible Part Numbers:APPLE: A1281,MB772,MB772*/A,MB772J/A,MB772LL/A
Compatible with Laptop Models:
APPLE:
MacBook Pro 15″ A1286 (2008 Version) MacBook Pro 15″ MB470*/A
MacBook Pro 15″ MB470CH/A MacBook Pro 15″ MB47 /A
MacBook Pro 15″ MB470LL/A MacBook Pro 15″ MB470X/A
MacBook Pro 15″ MB471*/A MacBook Pro 15″ MB471CH/A
MacBook Pro 15″ MB471J/A MacBook Pro 15″ MB471LL/A
MacBook Pro 15″ MB471X/A MacBook Pro 15″ MC847LL/A
MacBook Pro 15″ Aluminum Unibody (2008 Version) MacBook Pro 17″ MB766CH/A