Unlock Ultimate Power and Reliability with Our Affordable MacBook Unibody 13 Generic Battery-A1331.
At laptopparts Elevate your MacBook Unibody 13's performance with our top-quality Generic Battery-A1331. At LaptopParts, we offer you the ultimate solution to power up your device without breaking the bank. Our affordable and reliable Generic Battery-A1331 is meticulously designed to seamlessly fit your MacBook, ensuring a prolonged battery life for your on-the-go lifestyle.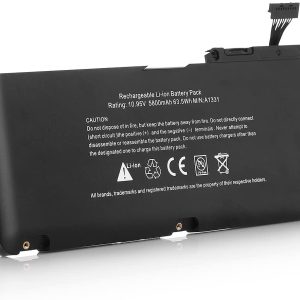 DESCRIPTION:
Unbeatable Affordability: We understand the value of your hard-earned money. That's why our MacBook Unibody 13 Generic Battery-A1331 combines superior performance with an unbeatable price tag. Experience high-quality power without burning a hole in your pocket.
We believe that quality shouldn't come at a hefty price. Our replacement parts are competitively priced, making them accessible to budget-conscious customers without compromising on performance or reliability. Our MacBook Unibody 13 Generic Battery-A1331 price in Nairobi Kenya is KSH 4,999.
Wide Range of Selection: Dive into a vast selection of MacBook Unibody 13 Generic Battery-A1331 options tailored to meet your specific needs. Our extensive range ensures that you find the perfect battery to match your MacBook model, providing a hassle-free browsing and shopping experience.
We also have a variety of products from various brands that is: HP, DELL, LENOVO, ASUS, ACER AND etc.
Exceptional Performance: Expect nothing less than exceptional performance from our MacBook Unibody 13 Generic Battery-A1331. Engineered with cutting-edge technology, it guarantees reliable and long-lasting power, allowing you to tackle tasks, watch movies, and browse the web without interruptions.
Easy Installation: Say goodbye to complicated installations. Our MacBook Unibody 13 Generic Battery-A1331 is designed for easy, hassle-free installation. With user-friendly features, you can replace your MacBook battery effortlessly, empowering you to enjoy uninterrupted usage in no time.
Reliable and Durable: Count on our MacBook Unibody 13 Generic Battery-A1331 to deliver consistent, reliable power day in and day out. Crafted from high-quality materials, it ensures durability, making it a smart investment for your MacBook's longevity.
Environmentally Friendly: We care about the environment just as much as you do. That's why our MacBook Unibody 13 Generic Battery-A1331 is eco-friendly and energy-efficient, reducing your carbon footprint while keeping your MacBook running smoothly.
Customer Satisfaction Guaranteed: At LaptopParts, customer satisfaction is our top priority. We take pride in offering top-notch products and exceptional customer service. Our dedicated team is always ready to assist you, ensuring your shopping experience is smooth and enjoyable.
Upgrade Your MacBook Unibody 13 Today: Don't compromise on your MacBook's performance any longer. Upgrade to our affordable and reliable MacBook Unibody 13 Generic Battery-A1331 and experience the difference firsthand. With our wide selection, unbeatable affordability, and exceptional customer support, you're not just getting a battery – you're getting peace of mind.
Choose LaptopParts for Affordable Excellence: Unlock the power and reliability your MacBook deserves with our Generic Battery-A1331. Explore our wide range of selection, enjoy unbeatable affordability, and experience exceptional customer service. Upgrade your MacBook Unibody 13 today and embrace a world of seamless, uninterrupted computing.
KEY FEATURES:
Battery Type: Lithium-Polymer
Capacity: 6000 mAh
Voltage: 10.95 Voltage
Compatibility: MacBook Unibody 13 models  A1342 (Only for Late 2009 and Mid 2010)
MacBook 13.3″ 13-inch Mid 2010 (White Pre-Unibody) MacBook7,1 A1342, MC516*/A Series
MacBook 13.3″ 13-inch Late 2009 (White Pre-Unibody) MacBook6,1 A1342, MC207*/A Series.
Dimensions: ‎248.9 mm (length) x 78.7  mm (width) x 10.2  mm (height)
Weight: 317.51 grams
Cell Quality: Grade A cells for reliable performance
Certifications: CE, FCC, RoHS compliant for safety and environmental standards
Life Cycle: Up to [Insert Number] charge cycles for long-term usage
Warranty:3 months warranty for peace of mind
Environmentally Friendly: Energy-efficient and recyclable materials for reduced environmental impact