Unleash Power and Performance with the 1TB SSD KingSpec Msata-NGFF – Affordable Excellence for Your Laptop.
In the fast-paced digital era, power and performance are non-negotiable when it comes to upgrading your laptop. Elevate your computing experience with the 1TB SSD KingSpec Msata-NGFF, a storage powerhouse designed for seamless speed and reliability. Our SSD promises not only top-notch performance but also affordability, making it the ideal choice for tech enthusiasts on a budget.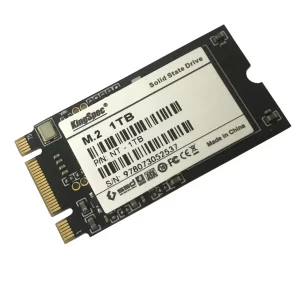 Affordability Meets Excellence: At LaptopParts, we understand the importance of value for money. The 1TB SSD KingSpec Msata-NGFF offers an unbeatable combination of high capacity and affordability. Experience superior storage without breaking the bank, ensuring you get the most out of your investment.
Powerful Performance for Every Task: Whether you're a gamer, content creator, or a professional on-the-go, this SSD is tailored to meet your demands. Say goodbye to lag and hello to uninterrupted productivity. With lightning-fast read and write speeds, your laptop will operate at peak efficiency, handling multitasking with ease.
Wide Range of Selection: We believe in offering choices that cater to diverse needs. The 1TB SSD KingSpec Msata-NGFF is part of our extensive selection of storage solutions, ensuring there's an option for every user. From compact laptops to high-performance notebooks, we've got you covered.
Key Features:
| Feature | Description |
| --- | --- |
| Capacity | 1TB – Unleash massive storage for your files and applications |
| Form Factor | Msata-NGFF – Compact design for easy integration |
| Speed | Lightning-fast read and write speeds for optimal performance |
| Reliability | Enhanced durability and reliability for long-term use |
| Compatibility | Versatile compatibility with a wide range of laptops |
| Affordability | Cost-effective solution without compromising on quality |
Why Choose the 1TB SSD KingSpec Msata-NGFF from LaptopParts:
Performance Boost: Elevate your laptop's performance with industry-leading read and write speeds.
Affordable Excellence: Get 1TB of storage without the hefty price tag, ensuring value for every penny spent. 1TB SSD price in Kenya is KSH 7,499.
Versatile Compatibility: Compatible with a wide range of laptops, making it a versatile solution for various users.
Durable Design: Built to withstand the rigors of daily use, ensuring longevity and reliability.
Wide Range of Selection: Choose from our extensive collection of storage solutions, finding the perfect fit for your laptop.
Upgrade your laptop with confidence. Experience the power, affordability, and reliability of the 1TB SSD KingSpec Msata-NGFF. At LaptopParts, we're not just providing storage; we're enhancing your computing journey. Invest in excellence today
Unmatched Speed for Seamless Workflows:
Experience a new level of speed that transforms your laptop into a productivity powerhouse. The 1TB SSD KingSpec Msata-NGFF delivers blazing-fast read and write speeds, reducing load times and ensuring swift access to your data. Whether you're working on large multimedia projects or loading resource-intensive applications, this SSD will keep up with your pace, enhancing your overall computing experience.
Space for Your Digital World:
With 1TB of storage space, bid farewell to the constraints of limited capacity. The 1TB SSD KingSpec Msata-NGFF provides ample room for your extensive collection of photos, videos, games, and essential files. No more compromises—store everything you need without sacrificing performance. Unleash the potential of your laptop and take your digital world with you, wherever you go.
Seamless Integration, Effortless Upgrade:
Upgrading your laptop shouldn't be a hassle. The Msata-NGFF form factor ensures a seamless integration process, making it easy for both tech enthusiasts and first-time upgraders. Enjoy a hassle-free installation that instantly elevates your laptop's capabilities. It's the perfect DIY solution for those looking to enhance performance without the complexity.
Reliability Redefined:
Trust is at the core of our product design. The 1TB SSD KingSpec Msata-NGFF is engineered for reliability, providing peace of mind in every keystroke. Benefit from enhanced durability, minimizing the risk of data loss due to physical impact. Invest in a storage solution that prioritizes the safety of your valuable data, ensuring a reliable computing experience day in and day out.
Future-Proof Your Laptop:
Technology evolves, and so should your laptop. The 1TB SSD KingSpec Msata-NGFF future-proofs your device, ensuring it remains relevant and powerful in the ever-changing landscape of computing. Embrace the next level of storage technology, and stay ahead of the curve with a high-capacity SSD that anticipates your needs.
Conclusion: Elevate Your Laptop Experience with Confidence:
In a world where performance, affordability, and reliability matter, the 1TB SSD KingSpec Msata-NGFF from LaptopParts stands tall. Elevate your laptop experience with confidence, knowing you have a storage solution that ticks all the boxes. Unmatched speed, vast storage, easy integration, and unparalleled reliability—all at an affordable price. Upgrade your laptop today and witness the transformation. Your journey to enhanced computing starts here.