Unleash Power and Speed with Our Affordable 16GB Laptop RAM DDR4 3200MHz.
Unlock unparalleled performance with our 16GB Laptop RAM DDR4 3200MHz – the epitome of speed and reliability. Elevate your laptop's capabilities without breaking the bank, as we bring you an exceptional blend of affordability and high-end specifications.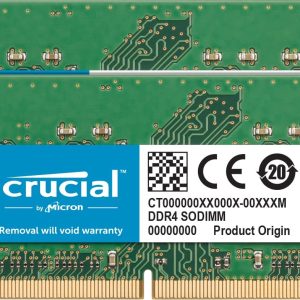 Why Choose Our 16GB Laptop RAM DDR4 3200MHz?
Pinnacle of Power: Immerse yourself in seamless multitasking and swift data processing with a formidable 16GB capacity. Say goodbye to lag and hello to a smoother, more responsive computing experience.
Blazing Fast Speeds: Clocking in at 3200MHz, our RAM ensures that every task, from gaming to content creation, is executed with lightning speed. Feel the difference in performance with reduced load times and enhanced overall efficiency.
Budget-Friendly Brilliance: We believe in providing top-tier quality without burning a hole in your pocket. Our 16GB Laptop RAM DDR4 3200MHz offers unbeatable value, making it the smart choice for those who demand excellence on a budget.
Wide Selection, Wider Compatibility: Explore our extensive range of RAM modules tailored to fit various laptop models. Rest easy knowing that our DDR4 3200MHz RAM is designed for compatibility, ensuring a seamless integration with your device.
Effortless Installation: Upgrade your laptop's memory effortlessly with our user-friendly installation process. No need for technical expertise – simply plug and play to experience a performance boost like never before.
Key Features at a Glance:
| Feature | Specification |
| --- | --- |
| Capacity | 16GB |
| Type | DDR4 |
| Speed | 3200MHz |
| Compatibility | Wide range of laptop models |
| Installation | Easy plug-and-play |
| Affordability | Budget-friendly excellence |
| Performance Enhancement | Reduced load times, seamless multitasking |
Seize the Power, Embrace the Speed
Upgrade your laptop's performance with our 16GB Laptop RAM DDR4 3200MHz. Dominate every task, from demanding applications to intense gaming sessions, with a memory module designed to deliver exceptional speed and reliability. Our commitment to affordability ensures that you don't have to compromise on quality to experience the best in computing.
Affordable Excellence
We understand the importance of a budget-friendly upgrade. Our 16GB Laptop RAM DDR4 3200MHz is a testament to our dedication to providing high-quality components at a price that won't leave you second-guessing. Invest in excellence without draining your wallet. 16GB RAM price IN kENYA IS ksh  5,999.
Unleash Creativity and Productivity
Whether you're a creative professional tackling resource-intensive design projects or a business user juggling multiple applications, our 16GB Laptop RAM DDR4 3200MHz empowers you to push boundaries. Experience smoother multitasking, quicker data access, and enhanced overall efficiency. Elevate your creativity and productivity with a RAM module that understands and caters to the demands of your dynamic workload.
Upgrade to our 16GB Laptop RAM DDR4 3200MHz today and witness the transformation in your laptop's performance. From seamless multitasking to reduced load times, every aspect of your computing experience will benefit from the power and speed our RAM brings. Don't let your laptop be limited by its memory – embrace the future of computing with our affordable and high-performance RAM.
Tailored Compatibility
Whether you're using a gaming laptop, a business notebook, or a creative powerhouse, our RAM modules are designed to seamlessly integrate with a wide range of laptop models. Experience the convenience of compatibility as you upgrade to superior performance.
Effortless Installation, Immediate Impact
No need for complicated installation processes or technical expertise. Our 16GB Laptop RAM DDR4 3200MHz features a plug-and-play design, ensuring that you can enjoy the benefits of increased memory without the hassle. Witness an immediate impact on your laptop's responsiveness and efficiency.
Quality Assurance
Rest easy knowing that our RAM modules undergo rigorous testing to meet the highest quality standards. We prioritize your satisfaction, and our commitment to excellence is reflected in the reliability and durability of our products.
Upgrade Today, Experience Tomorrow
Don't settle for mediocrity – upgrade to our 16GB Laptop RAM DDR4 3200MHz and experience computing at its best. Speed, affordability, and reliability converge in a single memory module, ready to elevate your laptop to new heights. Join countless satisfied customers who have unlocked the true potential of their devices with our high-performance RAM.