Unleash Power and Performance with the 256GB SSD Sonix NVME – Your Affordable Solution for Laptop Speed.
Meta Description:
Elevate your laptop's performance with the 256GB SSD Sonix NVME, the epitome of power and efficiency. At LaptopParts, we bring you an affordable solution to transform your device into a speed powerhouse. Dive into the world of seamless multitasking, rapid data access, and unbeatable reliability.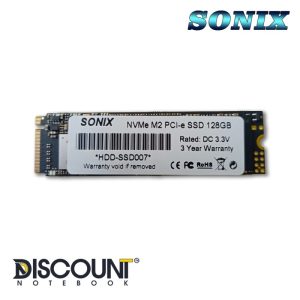 Why Choose the 256GB SSD Sonix NVME from LaptopParts?
Affordability: Experience high-speed performance without breaking the bank. Our 256GB SSD Sonix NVME offers an affordable solution, ensuring you get the best value for your money. 256GB SSD PRICE IN KENYA IS KSH 3,499
Wide Range of Selection: Discover the perfect match for your laptop among our extensive selection. We understand the diversity of devices, and our wide range ensures compatibility with various laptop models, providing you with choices that suit your needs.
Lightning-Fast Speeds: Elevate your laptop's speed with blazing read and write speeds. The 256GB SSD Sonix NVME ensures rapid data access, reducing load times and enhancing overall system responsiveness.
Reliability You Can Trust: Built with reliability in mind, Sonix NVME SSDs are known for their durability. Say goodbye to sluggish performance and hello to a dependable storage solution that stands the test of time.
Effortless Installation: Upgrade your laptop effortlessly with our user-friendly installation process. No need to be a tech expert – our SSDs are designed for easy installation, ensuring a hassle-free upgrade experience.
Unleash Speed and Efficiency:The 256GB SSD Sonix NVME is not just a storage upgrade; it's a revolution in speed. Boost your laptop's efficiency with lightning-fast read and write speeds of up to 3,500 MB/s and 2,500 MB/s, respectively. Say goodbye to frustrating lag times and hello to a smooth, responsive computing experience. Whether you're working on large projects, editing multimedia content, or immersing yourself in gaming, the Sonix NVME ensures your laptop keeps up with your pace.
Durable Design for Everyday Demands:Our Sonix NVME SSDs are engineered to withstand the rigors of daily use. With a Mean Time Between Failures (MTBF) of 1.5 million hours, you can trust your data to be secure and accessible whenever you need it. The shock resistance of 1,500G/0.5ms ensures that your SSD can handle unexpected bumps and movements, providing peace of mind for those on the go. Invest in a storage solution that not only delivers speed but also reliability in the face of real-world challenges.
Simple Installation, Instant Upgrade:Worried about the installation process? Fear not! The 256GB SSD Sonix NVME is designed with user-friendliness in mind. Upgrade your laptop effortlessly, even if you're not a tech whiz. The M.2 2280 form factor ensures compatibility with a wide range of laptops, and our step-by-step installation guide makes the process a breeze. Elevate your laptop's performance without the hassle – it's as simple as plug-and-play.
Tailored Solutions for Every Need:At LaptopParts, we understand that one size doesn't fit all. That's why our selection of Sonix NVME SSDs spans various capacities to suit your specific needs. Whether you're a casual user looking for a speed boost or a power user requiring ample storage for large files, we have the perfect solution for you. Explore our range and find the ideal 256GB SSD Sonix NVME that aligns with your laptop's requirements and your budget.
6-Months Warranty for Peace of Mind:We stand behind the quality and reliability of our products. The 256GB SSD Sonix NVME comes with a limited -months warranty, providing you with peace of mind and assurance in your purchase. We believe in the durability of our SSDs, and our warranty reflects our commitment to delivering a product that not only meets but exceeds your expectations.Upgrade your laptop today with the 256GB SSD Sonix NVME from LaptopParts. Unleash the power of speed, enjoy a reliable storage solution, and experience a seamless computing journey. Affordable, efficient, and designed for you – it's time to elevate your laptop experience.
256GB SSD Sonix NVME Specifications:
| Feature | Details |
| --- | --- |
| Capacity | 256GB |
| Interface | NVMe (Non-Volatile Memory Express) |
| Read Speed | Up to 3,500 MB/s |
| Write Speed | Up to 2,500 MB/s |
| Form Factor | M.2 2280 |
| Reliability | MTBF (Mean Time Between Failures): 1.5 million hours |
| Operating Temperature | 0°C to 70°C |
| Shock Resistance | 1,500G/0.5ms |
| Warranty | Limited 6 months warranty |
Experience the Difference:
Upgrade your laptop with the 256GB SSD Sonix NVME and feel the immediate difference in speed and performance. Whether you're a student, professional, or gaming enthusiast, our affordable SSD solution caters to all needs.
Transform your laptop into a multitasking powerhouse, effortlessly handle demanding applications, and enjoy faster boot times. At LaptopParts, we understand the importance of a reliable and affordable storage solution, and the Sonix NVME SSD delivers on both fronts.
Unlock the full potential of your laptop without compromising on budget or performance. Order your 256GB SSD Sonix NVME from LaptopParts today and experience a seamless computing journey