Elevate Your Laptop's Performance with Unmatched Speed and Affordability – 256GB SSD Kingspec SATA.
Upgrade your laptop's speed and storage capabilities with our cutting-edge 256GB SSD Kingspec SATA. Unleash the power of seamless performance and reliability at an unbeatable price. At LaptopParts, we bring you the perfect blend of cutting-edge technology, affordability, and a wide range of options to meet your every need.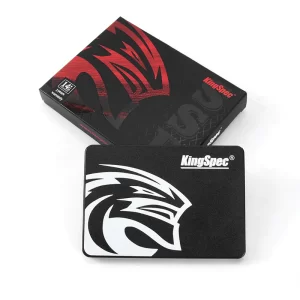 DESCRIPTION:
Power-Packed Performance Experience a revolutionary boost in your laptop's speed and responsiveness with the256GB SSD Kingspec SATA. Say goodbye to lag and slow loading times, as this SSD is designed to deliver lightning-fast data access and transfer speeds. Elevate your computing experience to new heights, whether you're gaming, working, or simply multitasking.
Affordability Redefined We understand the importance of affordability without compromising quality. Our 256GB SSD Kingspec SATA provides an exceptional balance between performance and cost. Transform your laptop into a high-performance machine without breaking the bank. Discover the true meaning of value with LaptopParts.
256GB SSD Kingspec SATA price in Kenya is KSH 2,800
Wide Range of Selection Not all laptops are created equal, and neither are their storage needs. That's why we offer a diverse range of Kingspec SATA SSDs to cater to various specifications and requirements. Find the perfect fit for your laptop among our wide selection, ensuring compatibility and optimal performance.
Unmatched Reliability Trust in the reliability of Kingspec technology. Our SSDs are built with durability in mind, providing you with a storage solution that stands the test of time. Say goodbye to worries about data loss and welcome a dependable companion for your digital needs.
Easy Installation Upgrade your laptop effortlessly with our user-friendly installation process. No technical expertise required – simply plug and play. Enhance your laptop's capabilities within minutes, and enjoy the benefits of a faster and more efficient device.
Technical Specifications :
| Capacity | 256GB |
| --- | --- |
| Interface | SATA III |
| Form Factor | 2.5 inches |
| Read Speed | Up to 550MB/s |
| Write Speed | Up to 500MB/s |
| Reliability | MTBF of 2 million hours |
| Operating Temperature | 0°C to 70°C |
| Shock Resistance | 1500G |
Why Choose LaptopParts? LaptopParts is your go-to destination for quality laptop components, and our256GB SSD Kingspec SATA is no exception. We pride ourselves on offering top-tier products at affordable prices, backed by excellent customer service. Join countless satisfied customers who have elevated their laptops with our reliable and cost-effective upgrades.
Upgrade Today for a Better Tomorrow Don't settle for mediocre performance. Upgrade to the 256GB SSD Kingspec SATA from LaptopParts and experience a significant improvement in your laptop's speed and storage capabilities. Embrace a future where efficiency meets affordability. Upgrade today and redefine your laptop experience.
Superior Endurance for Long-Term Use Invest in longevity with the 256GB SSD Kingspec SATA. Engineered for endurance, this SSD can handle the demands of daily use with ease. Whether you're running resource-intensive applications or managing large files, rest assured that the Kingspec SSD is up to the task. Say farewell to slowdowns and welcome a storage solution that stands the test of time.
Streamlined Data Management with Advanced Technology Our Kingspec SATA SSD employs advanced technology to ensure streamlined data management. Benefit from enhanced reliability, lower power consumption, and reduced heat generation. Experience a quieter, cooler, and more efficient laptop as you optimize your device for peak performance with our state-of-the-art storage solution.
Eco-Friendly and Energy-Efficient Join the green revolution with our eco-friendly Kingspec SATA SSD. Not only does it contribute to a more sustainable environment, but it also boasts energy-efficient operations. Lower power consumption means an extended battery life for your laptop, making it an environmentally conscious choice without compromising on performance.
Unleash Gaming Potential Gamers, rejoice! Elevate your gaming experience with the 256GB SSD Kingspec SATA. Load games faster, experience smoother graphics, and reduce in-game lag. The Kingspec SSD is a game-changer for gamers who demand high-speed performance and reliable storage for their gaming adventures. Upgrade your system and enjoy a competitive edge in the gaming arena.
Customer Satisfaction Guaranteed At LaptopParts, customer satisfaction is our priority. Join a community of satisfied customers who have experienced the transformative power of our Kingspec SATA SSD. Backed by a reliable warranty and responsive customer support, your purchase is not just an upgrade; it's an investment in a better, faster, and more efficient laptop.
Secure Your Digital World Protect your valuable data with the robust security features of the Kingspec SATA SSD. Enjoy peace of mind knowing that your files are safe and secure. Whether it's sensitive work documents or cherished memories, our SSD ensures that your data is protected against potential threats, providing a secure foundation for your digital world.
 Conclusion – Elevate Your Laptop Experience with Confidence In conclusion, the 256GB SSD Kingspec SATAfrom LaptopParts is more than just a storage upgrade; it's a commitment to elevating your laptop experience. With a perfect blend of affordability, performance, and reliability, this SSD is a game-changer for users seeking a seamless and efficient computing environment. Upgrade with confidence and unlock the full potential of your laptop today.