HP Pavilion X360 13-U Battery-BI03XL. Unleash Your Laptop's Potential with the HP BI03XL Original Battery – Empowering Performance and Affordability.
In the realm of laptop accessories, the HP Pavilion X360 13-U Battery-BI03XL stands out as a beacon of excellence, ensuring your device's seamless operation and longevity. At LaptopParts, we proudly offer this original HP battery to elevate your laptop experience to unprecedented heights. Crafted with precision and engineered for reliability, this battery is a powerful ally in your quest for uninterrupted productivity.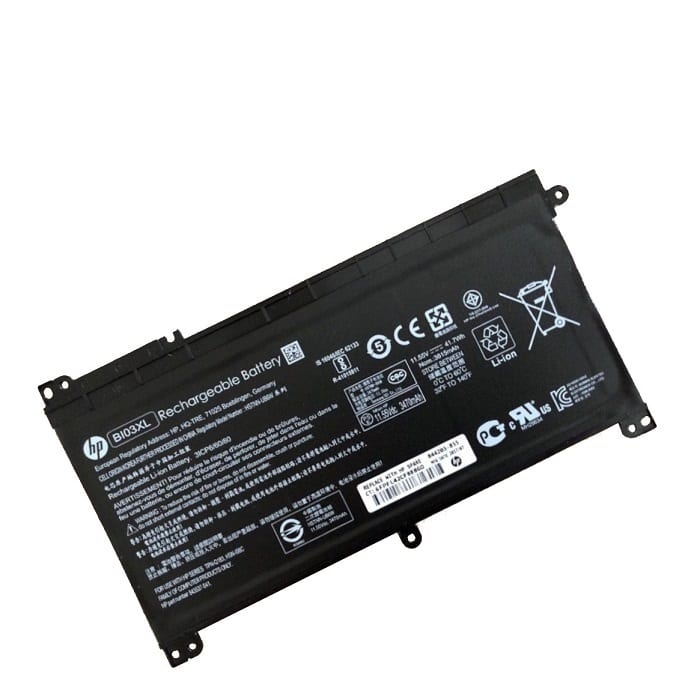 DESCRIPTION:
Why Choose HP Pavilion X360 13-U Battery-BI03XL.
1. Unmatched Affordability: We understand the value of your hard-earned money. That's why our HP Pavilion X360 13-U Battery-BI03XL not only promises exceptional performance but also comes at an unbeatable price. Quality meets affordability, making it a smart choice for budget-conscious customers.
We believe that quality shouldn't come at a hefty price. Our replacement parts are competitively priced, making them accessible to budget-conscious customers without compromising on performance or reliability. HP Pavilion X360 13-U Battery-BI03XL price in Nairobi Kenya is KSH 4,499.
2. Wide Range of Selection: Your laptop deserves the best, and we deliver just that. Our selection of HP BI03XL Original Battery is diverse, catering to various HP laptop models. Whatever your device, we have the perfect battery to match, ensuring compatibility and seamless integration.
3. Long-Lasting Power: Experience the joy of extended usage with our HP BI03XL Original Battery. Designed with cutting-edge technology, it boasts an impressive lifespan, keeping your laptop charged and ready for action throughout the day. Bid farewell to frequent charging woes and embrace uninterrupted work and entertainment.
4. Hassle-Free Installation: We understand that not everyone is a tech expert. That's why our HP Pavilion X360 13-U Battery-BI03XL is designed for easy installation. With user-friendly features and clear instructions, you can replace your old battery effortlessly, giving your laptop a new lease on life in no time.
5. Environmentally Conscious: In today's eco-conscious world, choosing products that are environmentally friendly is crucial. Our HP Pavilion X360 13-U Battery-BI03XL is built with the environment in mind, adhering to strict quality standards and eco-friendly practices. Make a difference while enjoying superior performance.
6. Uncompromised Quality: When it comes to laptop batteries, quality is paramount. Our HP Pavilion X360 13-U Battery-BI03XL undergoes rigorous testing to ensure it meets the highest industry standards. Rest assured, you are investing in a reliable, durable, and long-lasting power source for your laptop.
Conclusion: Elevate Your Laptop Experience Today.
At LaptopParts, we believe that every laptop deserves the best, and our HP BI03XL Original Battery is a testament to our commitment to excellence. Empower your device with a battery that delivers exceptional performance, affordability, and environmental responsibility. Say goodbye to downtime and hello to endless possibilities.
Don't compromise on quality or break the bank. Choose the HP Pavilion X360 13-U Battery-BI03XL from LaptopParts and witness a transformation in your laptop's performance. Shop now and experience the difference.
HP Pavilion X360 13-U Battery-BI03XL Replace The Following Part Number:
BI03XL
843537-541
843537-421
0N03XL
BI03041XL
844203-850

BI03041XL-PR
915486-855
844203-855
BIO3XL
B103XL

915230-421
ON03XL
ON03041XL-PR
HSTNN-LB7P
ON03041XL
TPN-W118
HP Pavilion X360 13-U Battery-BI03XL Fit With Following Models:
Pavilion X360 13-U001NA
Pavilion X360 13-U039TU
Pavilion X360 13-U040TU
Pavilion X360 13-U050TU
Pavilion X360 13-U100NC
Pavilion X360 13-U103NM

Pavilion X360 13-U103TU
Pavilion X360 13-U115TU
Pavilion X360 13-U117TU
Pavilion X360 13-U167NZ
Pavilion X360 13-U199NP

Stream 14-AX000NI
Stream 14-AX001NU
Stream 14-AX002NC
Stream 14-AX007NT
Stream 14-CB023NL
Stream 14-CB040NF
Stream 14-CB057SA

Stream 14-CB104NL
Stream 14-CB108NL
Stream 14-CB109CA
Stream 14-CB112DX
Stream 14-CB112WM
The HP Pavilion x360 M3-U000 Laptop Battery and have it delivered to your doorstep in less than 3 hours if you are in Nairobi and within 24hrs for those outside Nairobi. Laptop parts are your trusted and reliable online shop for all laptop parts for all your favorite brands.
Enjoy shopping online with fast delivery for all your purchases.