sony-pcga-ac19v3-19-5v-4-1a-ac-adapter
The Sony Laptop Charger Adapter is an amazing Adapter with some of the best features for middle range laptops. Get it now from laptop parts, the best and most affordable retail shop for genuine laptop parts in Nairobi Kenya. Enjoy shopping online with fast delivery for all your purchase. The Sony Laptop Charger Adapter features a 119.5V 4.1a, 80W, (Black)
sony-pcga-ac19v3-19-5v-4-1a-ac-adapter
Output Voltage(s): 19.5 V
Brand: Sony
Type: Power Adapter
Output Current: 4.1 A
Product Dimensions: 11.99 x 5 x 3.99 cm; 249.48 Grams
Color: Black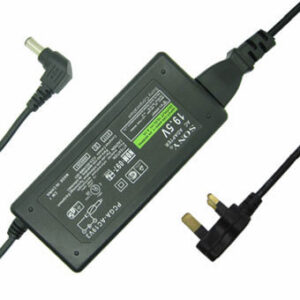 Compatible with SONY Parts #: PCGA-AC19V, PCGA-AC19V1, PCGA-AC19V10, PCGA-AC19V11, PCGA-AC19V12, PCGA-AC19V14, PCGA-AC19V3, PCGA-AC19V4, VGP-AC19V10, VGP-AC19V11, VGP-AC19V12, VGP-AC19V13, VGP-AC19V14, VGP-AC19V19, VGP-AC19V21, VGP-AC19V22, VGP-AC19V23, VGP-AC19V24, VGP-AC19V25, VGP-AC19V26, VGP-AC19V27, VGP-AC19V30, VGP-AC19V3, VGP-AC19V32, VGP-AC19V34, VGP-AC19V35, VGP-AC19V36, VGP-AC19V37, VGP-AC19V38, VGP-AC19V39, VGP-AC19V7, PCGA-ACX1, VGP-AC19V41, VGP-AC19V42, VGP-AC19V51, VGP-AC19V59, VGP-AC19V60
Compatible with:
Sony Vaio VGN-SZ Series
VGN-SZ, VGN-SZ110/B, VGN-SZ120P/B, VGN-SZ140, VGN-SZ140PC, VGN-SZ140PD, VGN-SZ160, VGN- SZ160P, VGN-SZ160P/C, VGN-SZ170P, VGN-SZ170P/C, VGN-SZ1HP/B, VGN-SZ1M/B, VGN-SZ240, VGN- SZ240P12, VGN-SZ250P/C, VGN-SZ260P/C, VGN-SZ270, VGN-SZ270P, VGN-SZ270P/C, VGN-SZ281, VGN- SZ281P, VGN-SZ281P/X, VGN-
AC adapter Tips for Sony:
1. All our laptop notebook AC power adapters are brand new, CE certified for safety, 100% guaranteed to meet or exceed original equipment manufacturers (OEM) specifications and come with full 1 year replacement warranty.
2. Please check your original adapter's OEM part number which is printed on your adapter label, laptop model number with our postings before the purchase to make sure you get the right power adapter.
3. Do not use the laptop AC power adapter in dusty, dirty, and hot areas. Its moving parts and electronic components can be damaged.
4. Unplug laptop notebook adapter's AC power when not in use.
5. Store laptop AC power adapter in cool and dry place.