sony-vaio-19-5v-4-74a-90-w-adapter-power
This Club laptop P-Power replacement adapter is designed to provide reliable power and charge to your laptop. Made from highest quality parts each CL replacement adapter conforms to specifications similar to original in its appearance, size and quality. Each CL replacement adapter comes with high quality power cord to ensure proper power supply to your laptop. Each adapter also passes necessary authentication certifications like CE, ROHS etc. before leaving the factory, so you can be rest assured for its quality, durability and performance.
sony-vaio-19-5v-4-74a-90-w-adapter-power
Input: 100-240V ~ 50-60Hz
Output: 19.5V ⎓ 4.7A, 92 Watts
Connector Size: 6.5 mm x 4.4 mm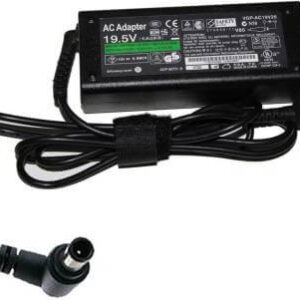 Compatible Laptop Models – VAIO PCG FX90/BPK, VAIO VGN-BX541B, VAIO VGN-FS500P12, VAIO VGN-FS520B, VAIO VGN-FS530B, VAIO VGN-FS540P, VAIO VGN-FS550, VAIO VGN-FS570, VAIO VGN-FS625B/W, VAIO VGN-FS630/W, VAIO VGN-FS635B/W, VAIO VGN-FS625B/W, VAIO VGN-FS640/W, VAIO VGN-FS645P/H, VAIO VGN-FS660/W, VAIO VGN-FS675P/H, VAIO VGN-FS680/W, VAIO VGN-FS740/W, VAIO VGN-FS742/W, VAIO VGN-FS745P/H, VAIO VGN-FS760/W, VAIO VGN-FS775P/H, VAIO VGN-FS780/W, VAIO VGN-S380, VAIO VGN-S380B, Professional, VGN-S430P/S, VGN-S460/B, VGN-S460P/B, VGN-S470P/S, VGN-FS550, VGN-S550P/S, VGN-S560P/B, VGN-S570P/S.
Compatible Part Numbers :- VGP-AC19V26, VGP-AC19V31, VGP-AC19V32, VGP-AC19v35, VGP-AC19V41.PCGA-AC19V1 PCGA-AC19V2 PCGA-AC19V3 VGP-AC19V11 VGP-AC19V10 VGP-AC19V12 VGP-AC19V13