8GB RAM DDR3 MEMORY
Revolutionize Your Laptop's Performance with Dominant 8GB RAM DDR3 Memory – Unleash the Power of Speed and Affordability.
Meta Description:
Upgrade your laptop's performance with our cutting-edge 8GB RAM DDR3 Memory – the ultimate solution for a lightning-fast and responsive computing experience. Embrace the power of speed and affordability as you explore the extensive range of options available at our laptopparts website.
Unmatched Performance: Experience a significant boost in your laptop's speed and responsiveness with our 8GB RAM DDR3 MEMORY. Say goodbye to sluggish performance and hello to seamless multitasking, quicker data access, and enhanced overall efficiency.
Affordability at Its Finest: We understand the value of your hard-earned money. That's why our 8GB RAM DDR3 MEMORY combine top-tier performance with unbeatable affordability. Upgrade your laptop without breaking the bank and enjoy a significant performance uplift.
Wide Range of Selection: Dive into a world of choices with our extensive selection of 8GB RAM DDR3 MEMORY. Whether you're a casual user or a power user, we have the perfect match for your laptop. Choose from renowned brands, various clock speeds, and form factors to tailor your upgrade to your specific needs.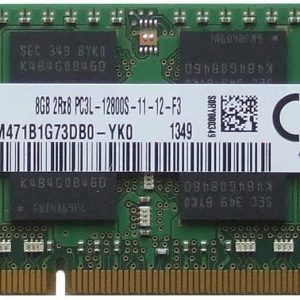 Features That Stand Out:
Capacity: 8GB DDR3
Speed:  1600MHz Clock Speed.
Compatibility: Our RAM modules are compatible with a wide range of laptops, ensuring a hassle-free upgrade process.
Reliability: Trust in the reliability of our memory modules, crafted with precision to meet the highest industry standards.
Affordability: Enjoy top-notch performance without burning a hole in your pocket. 8gb ram price in kenya is KSH 2,499.
Warranty: Backed by a warranty that reflects our confidence in the quality and durability of our products.
Simple Installation: Upgrade your laptop's RAM effortlessly with our user-friendly installation process. No technical expertise required – just plug and play. Elevate your computing experience in minutes.
Why Choose Our 8GB RAM DDR3 Memory?
Unleash Performance: Optimize your laptop's potential with a significant boost in speed and responsiveness.
Affordable Excellence: Upgrade without the hefty price tag – we believe in delivering value without compromise.
Extensive Selection: Find the perfect match for your laptop with our wide range of options.
Trusted Quality: Rely on our memory modules for their exceptional quality, durability, and industry-leading standards.
Expert Customer Support: At laptopparts, our commitment extends beyond delivering exceptional products. Our team of experts is ready to assist you throughout your upgrade journey. Whether you need guidance on choosing the right 8GB DDR3 RAM for your laptop or have questions during the installation process, our customer support is just a message away. Experience peace of mind knowing that help is readily available whenever you need it.
Future-Proof Your Laptop: Investing in our 8GB RAM DDR3 MEMORY is not just an upgrade for today; it's a future-proofing strategy. As software and applications evolve, your laptop's demands will increase. Our memory modules are designed to meet the challenges of tomorrow, ensuring that your laptop remains at the forefront of performance for years to come.
Seamless Multitasking: Bid farewell to the frustration of a lagging laptop when juggling multiple tasks. With 8GB RAM DDR3 MEMORY, multitasking becomes a breeze. Switch between applications effortlessly, run memory-intensive programs without a hitch, and enjoy a smooth, uninterrupted computing experience. Elevate your productivity and efficiency with our high-performance RAM.
Eco-Friendly Upgrades: Beyond enhancing your laptop's performance, choosing our 8GB RAM DDR3 MEMORY is a step towards sustainability. Our products are crafted with eco-friendly practices in mind, minimizing environmental impact. Upgrade responsibly and contribute to a greener, more sustainable future while enjoying the benefits of advanced technology.
Performance Meets Aesthetics: Enhance not only your laptop's speed but also its aesthetic appeal. Our 8GB RAM DDR3 MEMORY modules come in sleek designs, complementing the visual aesthetics of your laptop. Upgrade with style and make a statement – because high performance should look good too.
Risk-Free Satisfaction Guarantee: We stand by the quality and performance of our 8GB RAM DDR3 MEMORY, and we want you to be completely satisfied with your purchase. That's why we offer a risk-free satisfaction guarantee. If you're not happy with your upgrade for any reason, let us know, and we'll make it right. Your satisfaction is our top priority.
Secure Checkout and Fast Shipping: Experience a hassle-free shopping process with our secure checkout system. Your information is encrypted and protected to ensure a safe transaction. Once you've made your selection, enjoy fast shipping to get your 8GB RAM DDR3 MEMORY delivered to your doorstep promptly. Upgrade your laptop with confidence, knowing that we prioritize the security and efficiency of your shopping experience.
Upgrade your laptop today with our 8GB RAM DDR3 MEMORY and discover a new level of performance, affordability, and customer satisfaction. Join countless satisfied customers who have transformed their laptops into powerhouses with laptopparts – your trusted partner in laptop upgrades.